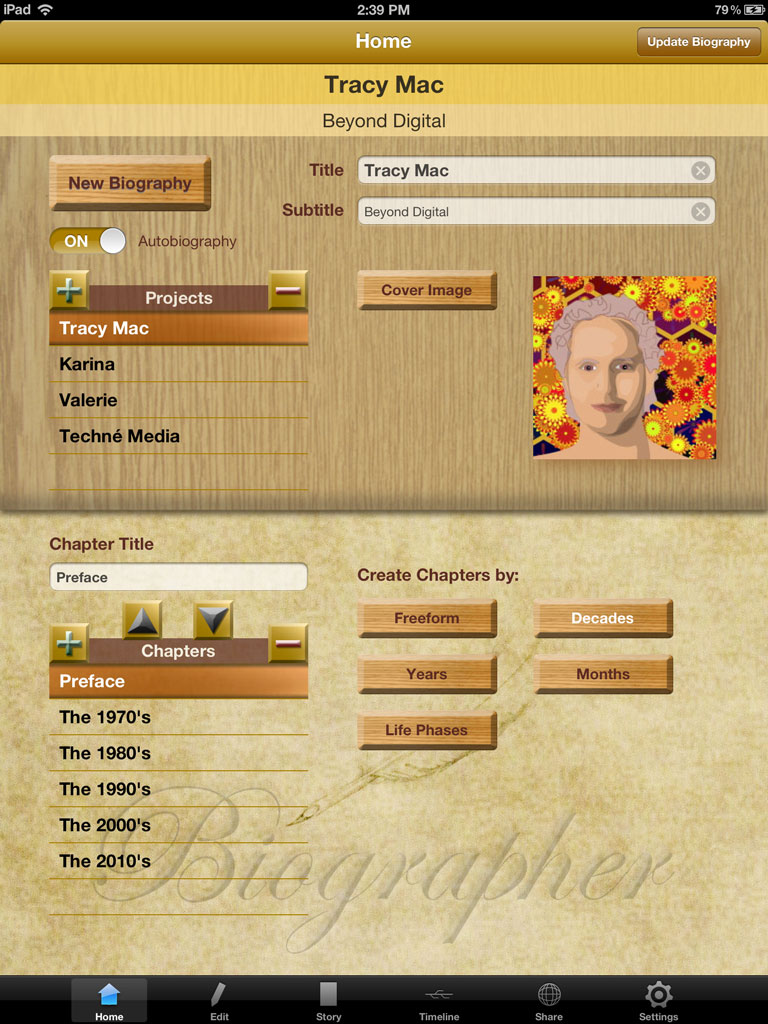 Get Organized, Without Trying
Biographer can make more than biographies. Almost any story can be quickly organized and crafted in our easy-to-use interface geared to making the process a snap. Whether you are doing a book report, a rememberance of your grandpa or writing a daily journal, Biographer will help you keep track and then output to a universal format that can be easily shared.
We added several options for automatically creating Chapters based on simple inputs. For example if you want to organize chapters by decades, pick the starting decade and Biographer will complete it up to the present decade.
Of course, you can add images and captions to your memories, anecdotes and thoughts as needed. Biographer saves everything in a database which not only preserves your information but makes it more useful. At any time you can view a preview of your book or just create your eBook and open it directly in iBooks where it will appear on the bookshelf with the cover image of your choice. You can also at any time see the Plain Text of your entire book or HTML or even XML for advanced users. These can be shared with others who you may want to collaborate with. We will be adding more collaboration tools in the near future because we realize your stories are connected to others' stories.
For convenience you can navigate your story via the Timeline which can help you jump around as you remember things to add or edit.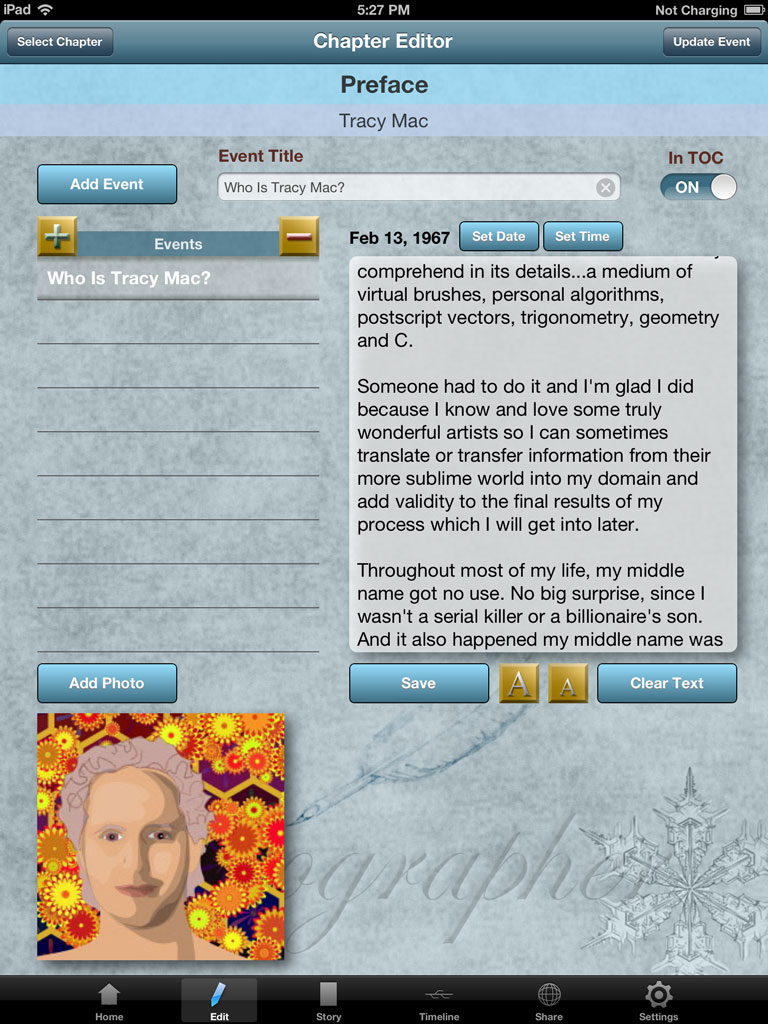 Add As Much or As Little As you Want
To Each Chapter
The Chapter Editor is used to add new "events" which can be anecdotes, memories, thoughts, background information, etc. Each event is given a time tag so it can be sorted later.
Turn on the optional Time Themes to help you remember either the time of year or the decade you are writing about. With Time Fade turned on, as you go further back in time the colors become more muted.
An event has a story that can be of any length. You could even make a book with one event that was one big story if that's what you wanted but that might make it harder to manage.
If you prefer, you can speak your stories directly instead of typing because the iPad comes with Voice Recognition built in for this purpose. Never has it been easier to tell and share your unique stories.
Events can be given titles and optionally can be added to the Table of Contents of the eBook and can work as sub-headers in the formatted output.
Additionally, you can add media (currently only photos) to your events. You can have events that are only media and have no text or only have a caption if you like.
So your Chapters will build up as a series of events, media and combinations thereof.
It's pretty simple. Just keep adding events to your chapters and before you know it, a story will emerge which you can always see in the Story panel. Since it's all in a database, at any time you can revisit your event and add or edit your text and change pictures and captions.